Best Summer Spots In Toronto
Torontonians wait all year long for summer and then when it gets here, it's too short! Between June and September is the best time to be outside and exploring the great spots that the city of Toronto has to offer. Toronto is full of hidden gems that are perfect for both kids and adults.
If you are looking for something to do with your little one in Toronto this summer, try the recommendations below. You can go outside, enjoy the fresh summer air, and explore the city all at the same time.
---
Best Places In Toronto To Visit This Summer
#1 Toronto Island Park
The best getaway spot in the city, Toronto Island is located a short ferry ride away from the downtown core and is the perfect spot for a day trip. The islands are green, car-free, and the air feels so much fresher even though it's only a ten-minute ferry ride from the city. There are also many free attractions on the island like a splash pad for the kids, picnic areas, a children's garden, a hedge maze, a sandy beach, and more.
The islands also offer paid attractions such as an amusement park for your little ones (3-7 years old), a petting zoo, paddle boat rentals, and bike rentals.
To get to the island you will need to take a ferry from downtown Toronto which is a lot of fun in itself. You will pay around $7 for an adult ferry ticket, and $3 for a child (2-14 years old) which will get you to the island and back.
My hot tip for the ferry: Buy your ticket for the ferry online and avoid the long lines in the hot sun. For more information click here
#2 The Beaches
The Toronto Beaches are located on the west side of the city and are an excellent spot for a day trip with your kids.
There is a bike trail as well as a Boardwalk trail very close to the lake which makes this area a great place to walk with your stroller. Along the path, there are also two playgrounds. The first playground is in Ashbridges Bay Park near the parking lot and the second playground is just after the public pool. You kids can play on the sandy beach or even take a dip in the lake. The water is always cold, but on a hot day, it can be refreshing.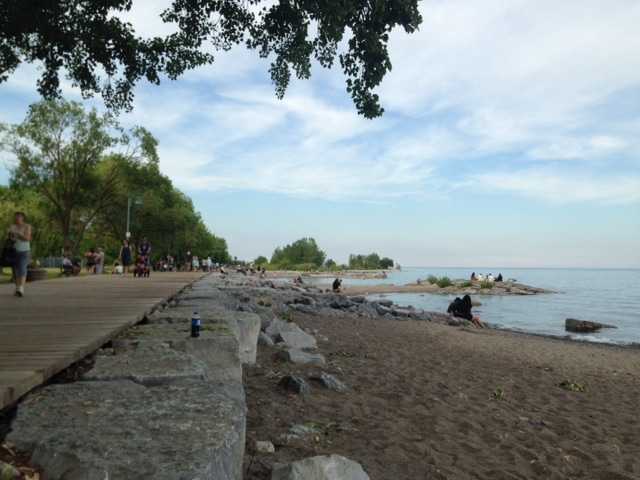 Park your car near the beach or take the bus to Ashbridges Bay Park and then walk West. You can walk on the boardwalk trail to the Leuty Lifeguard Station which will take about 20 minutes and then back.
My hot tip is that from the parking lot you can walk to a fantastic splash pad in Woodbine Park that's well worth the visit. The splash pad is located in front of 31 Northern Dancer Blvd.
#3 Rouge Park
Rouge Park is a Canadian National Park located inside of Toronto on the East side. The park is full of hiking trails that are fit for all types of families and that are full of animals, birds, plants, and ravines.
When you walk there, you won't believe you are still in Toronto.
You can also join one of the Guided walks that are fun for the whole family. If you are planning to hike with your baby, keep in mind that you won't be able to use a stroller. You'll only be able to use a carrier.
For more information about the park click here, and for a list of the park's trails click here.
There is no cost to get into the park. However, parking spots near the beginning of the trails are extremely limited.
#4 Evergreen Brick Works
Evergreen Brick Works is an ecological campus located at 550 Bayview Ave, just between St.Clair and Bloor. On the campus, there is a Children's Garden, Cafe, and Garden Market, so it is perfect for a fun family day. There is no cost for visiting the center.
A few walking trails are available, starting from the campus and heading north. The trails are easy to walk, accessible by stroller, and the entire campus is very kid-friendly.
Click here for more information about Evergreen Brick Works
#5 Toronto Waterfront
This is one of my favourite places in Toronto. On a summer day, the Toronto Waterfront is the perfect place to visit. You can start your visit at the Harbourfront Centre and walk west. The Waterfront is teeming with boats, gardens, and cafes, so there is something for everyone.
Places to see on the way include (but aren't limited to): Ontario Square, Ann Tindal Park, HTO Park and it's Sunday area and the Toronto Music Garden. All of these are great places to explore and will keep you busy for hours.
Hot Tip: Instead of driving, take the subway and the Lakeshore streetcar. Walk until you feel tired and then just hop back on the streetcar to go back.
#6 High Park
High Park is Toronto's largest public park where you can find trails, a gorgeous view of the lake, picnic areas, petting zoo, and so much more. It is the home of the largest outdoor playground in Ontario and one of the best playgrounds in Toronto. There is also a public outdoor pool and a splash pad. With the park being so full of attractions, there are lots of things to do for a full day or even a few days if you wanted to keep coming back.
Hot Tip: Note that the splash pad is only open when the outdoor pool is open to the public, so make sure you check the pool schedule if you are planning to take your LO.
For more information about Toronto's High Park click here
#7 Toronto Botanical Garden
This is one of my favourite spots for an outdoor baby and toddler day.
The gardens are located at Leslie and Lawrence Ave. You can get there on the TTC by taking a bus from Eglinton Station. During the weekdays, you can visit the gardens. If you are visiting during the weekend, the gardens will be closed, but you can still enjoy a nature-filled walk, the beautiful flowers outside, and the ravine. It is also an excellent spot for a picnic outside. Admission is free.
For more information about Toronto's Botanical Garden click here
---
Are there any places you think should be on this list? Have you visited any of these places and have a great experience you want to share? Comment below and let me know what you think.
---
If you like this post and you would like to read more content like that, please subscribe to my mailing list here
---
Latest posts by Diel Gerber
(see all)
Facebook Comments