10 Christmas Traditions for Children
One of the best parts of Christmas is all the Christmas traditions for Children that come to the surface when December rolls around. Even if you're not a huge fan of the Christmas carols or the shopping, there are always at least a few magical moments. For children, this is one of the greatest times of the year. Not only are they going to have Santa come around, but there are fun traditions that happen every Christmas for kids to look forward to.
Christmas traditions for children vary from household to household, but most are family-friendly and there are some basic ones that are fun for kids of all ages.
And don't forget to check the hottest trends of kids holiday
---
10 Best Christmas Traditions for Children
1. Watch the Santa Claus Parade
The Santa Claus parade is a must-have tradition. This year, Toronto's Santa Claus Parade is on Dec 4, 2021. Stay tuned for more information and for your 2021 lineup!
YOu can watch the Parde on Saturday, December 4th @ 7 pm on CTV & CTV2.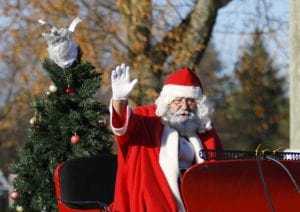 More than half a million people line the streets to watch the parade go by. With bands, huge floats, and Santa Claus bringing up the rear of the parade, it's a magical experience for any child and a great holiday tradition. If you're going to be attending the parade, make sure that you get there early to secure a spot. Some people bring folding chairs for the kids to sit on.
---
2. Send a Letter to Santa
Everyone wants to hear from Santa when they're a kid. I would write a letter telling him what I wanted that year and mail it to the North Pole. The best part about it was that I would get a response back. That's right. You can get a letter back from Santa Claus!
Every year, Canada Post volunteers become honorary elves and help Santa to answer mail from children all across Canada. It is one of the most fun Christmas Traditions or children. You need to send the letter in a sealed envelope, but don't need to use any postage. Even without postage, Santa will get the letter.
Make sure that your child sends their letter before December 14th or they may not receive a reply in time for Christmas. Canada Post is swamped at this time of year.
Santa's address is:
Santa Claus
North Pole
H0H 0H0
Canada
---
3. Keep an Advent Calendar
Who doesn't love getting a little extra chocolate? Advent Calendars are little calendars that have chocolate hidden behind each day. They're sold almost everywhere and were the best part of each morning when I was a kid. One more day closer to Christmas and one more piece of chocolate for me.
When your children are younger, they can also be useful for practicing numbers and counting.
---
4. Cut down a Christmas Tree
While Christmas Trees are sold around the city, there are also farms north of the city where you can go and find your perfect tree. You'll be taken around the farm in a tractor-drawn cart to pick your favourite tree.
The staff can help you to find the perfect tree for you as well, telling you about the different kinds of fir trees.
Once you've found your perfect Christmas Tree, you cut it down yourself either with your own saw or one borrowed from the farm. Back at the main camp, there's usually a roaring fire and hot cocoa to sip while your tree is bundled up for you.
Keep in mind that this will be a messy day since there will either be a lot of snow or mud. Expect pine needles to get everywhere.
---
5. Decorate the Christmas Tree
Now that you have your tree ready, it's time to decorate it! Decorating the tree is a ton of fun for kids if done right. Make sure that the lights are already on the tree prior to the kids coming near it. Having the Christmas lights on makes the entire moment more magical. Put on a little Christmas music to accentuate the smell of fresh pine and find yourself transported to a Winter Wonderland.
---
6. Make Christmas Cookies
Baking anything with a child can be an adventure, but knowing that these cookies are for a specific purpose can add another layer of magic to the proceedings. Take time to get Christmas themed sprinkles to really make the cookies feel like Christmas. Alternatively, you can add a few drops of red or green food dye to some vanilla frosting to help make any cookie festive.
Click here for the easiest Cookie Recipe to make with kids
7. Make a Gingerbread House
Gingerbread Houses are hard to make and don't let anyone tell you otherwise. They're also a ton of fun for children and a great tradition. Consider the gingerbread houses part of the decorating process since you can use them as a centrepiece. Simply wrap them up in clear cellophane to protect them from dust, pets, and hungry kids.
Make sure you have a lot of extra icing and candy since your kids will eat them. Don't worry about doing anything too complicated, you can make a marshmallow snowman family using blunt toothpicks and marshmallows.
---
8. Watch Cheesy Christmas Movies
Who doesn't love the original stop-motion Rudolph the Red-Nosed Reindeer or The Muppet's Christmas Carol, there are so many Christmas specials that only come around once a year. Take advantage of them! Watch the Power Rangers save Christmas or Frosty try to evade a malicious mayor.
Pick your favourite Christmas movie and make it a tradition to watch that every year. Whether you want to go with a religious theme or a campy one, there's something for everyone. Even Die Hard is technically a Christmas movie although I don't recommend showing that to children.
---
9. Take a picture with Santa
If I'm going to be entirely honest with you, taking pictures can be a bit of a headache. When kids are young, Santa can be scary to them. However, once they're old enough to understand the concept of Christmas and Santa, it can be a great tradition for a Saturday afternoon. Whether you end up using the photo for a card or putting it up on your fridge, Christmas photos are great souvenirs. Whether you want to have your kids dress up or stay casual is up to you, both have their ups and downs.
For the best places to see Santa in Toronto this Christmas click here
---
10. Leave out milk and cookies for Santa
This is the essential Christmas tradition and takes no time for you to do. Before your child goes to sleep on Christmas Eve, remind them to leave out some cookies and milk for Santa. There are some variations on this that you can do. My dad used to joke that we should leave out chips and beer, but we would remind him that Santa can't drink and drive. If you want to leave out carrot sticks or some other food, just make sure you have a good explanation for it.
A new trend is leaving out carrots for the reindeer, which I think is cute. Make sure that Santa eats at least some of the cookies on the plate and drinks all the milk. It will give your kids something to check when they wake up on Christmas morning.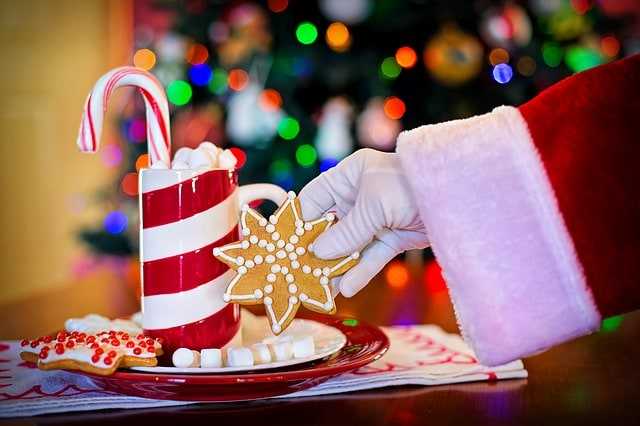 ---
Do you have any Christmas traditions for Children you want to share? Is there an obvious tradition that I missed? Please let me know down below.
For 2021 Holiday Gift Guide 2021, click here
Click here for Baby's First Christmas Gift Guide
Click here for Grandma's and Grandpa's First Christmas Gift Guide
---
This post was written by Lindsay Goto. Lindsay is my dear friend, a Christmas Expert, and a blogger.
Her blog Truly Booked is dedicated to all those who have a love for books bordering on an obsession
---
If you like this post and you would like to read more content like that, please subscribe to our mailing list here

---
Latest posts by Toronto New Mom Team
(see all)
Facebook Comments