Celebrate Hanukkah in Canada
There is nothing quite like the holiday session in Toronto. Ok, Ok, maybe not in 2020… but during the last few years, it was awesome!
When December is here, the city gets into a festive mood. Everything is so beautiful. I just love this time.
As a Jewish family in Toronto, we celebrate Hanukkah every year in December. I have always celebrated Hanukkah as part of the holiday session and I love it. Hanukkah is also called "The holiday of lights" so it makes a lot of sense to celebrate this holiday when there are lights everywhere.
Now that my first daughter is 4 years old, and even when she was younger, she started to ask many questions before the holiday arrived. She wants to celebrate Christmas like all of her friends, to have a big tree at home, and to wait for Santa to come with a gift.
I always let her know that we can enjoy Christmas outside, celebrate with friends, and visit the Holiday events in Toronto. But at home, we will also celebrate Hanukkah with our friends and family, and enjoy our Hanukkah traditions. It's important to me that she understands that Christmas isn't the only holiday with fun traditions.
Hanukkah traditions vary from household to household, but most are family-friendly and there are some basic ones that are fun for kids of all ages.
---
Hanukkah Traditions we love
1. Light up the Menorah candles
This is a daily ritual for the entire 8 days of the holiday. On the first day, we light 1 candle, on the second day we light two candles and so on.
2. We sing Hanukkah songs
Hanukkah is actually the Jewish Holiday with the most holiday songs, so we have lots of songs to sing. All the songs are actually made for kids.
3. We play with dreidels
There are so many types of dreidels. From big, small, to glow in the dark and even dreidels with music, you'll find one your LO will love.
4. Hanukkah traditional food
Hanukkah traditional food is doughnuts filled with strawberry jam and latkes which are potato pancakes with applesauce. They're not really healthy, but we don't think about calories during the holidays. 😉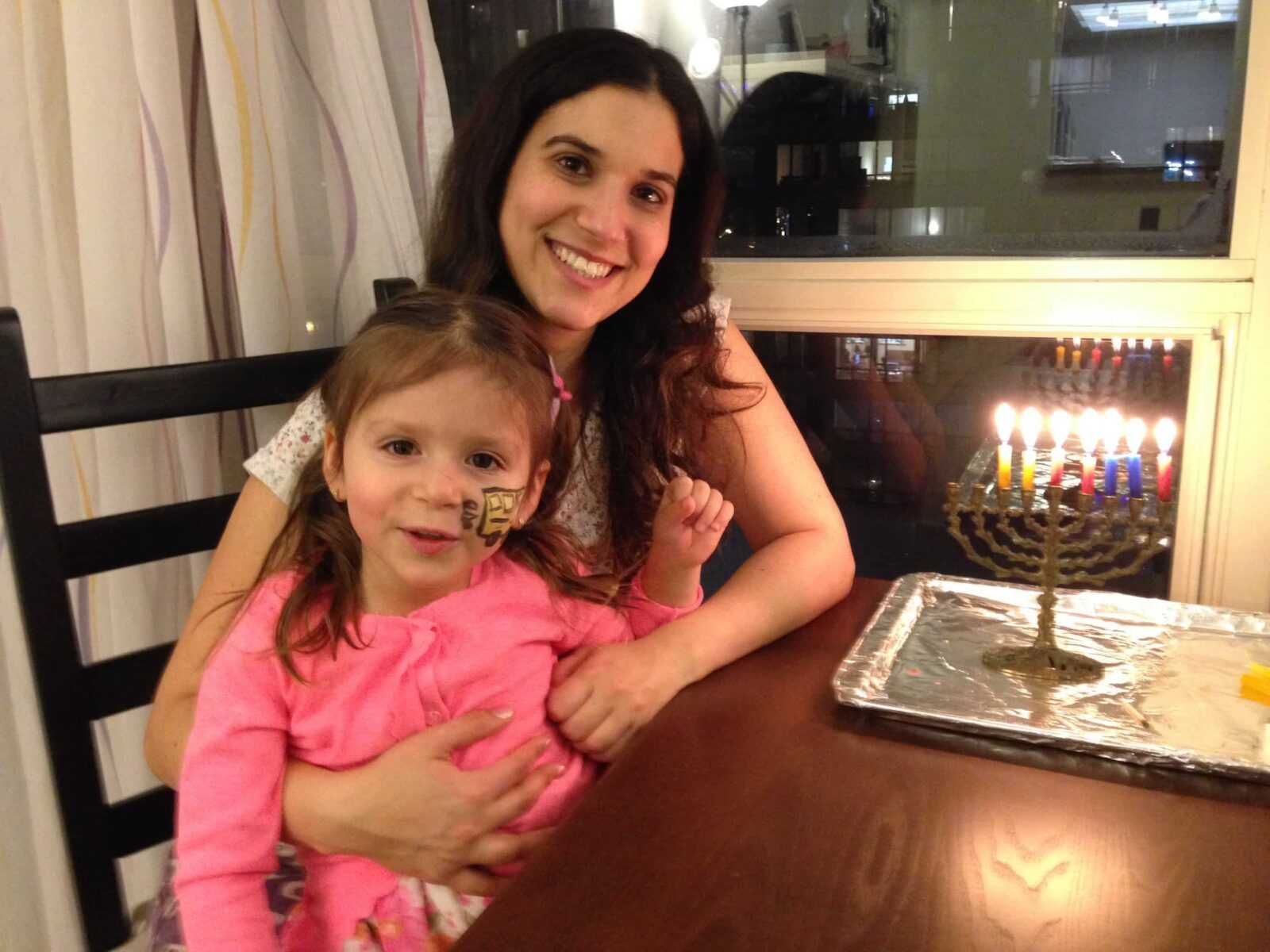 4. We go to Hanukkah community events and get-togethers- but not in 2020
There are many family-friendly Hanukkah events in Toronto and the GTA we used to go to every year.
Every evening we are invited to family or friends places and we meet up to light the candles together. We also host one or two evenings at our condo.
This year we will stay at home and celebrate with the girls.
---
Hanukkah Gifts
During Hanukkah, we give the kids gifts. In my family, we used to get one gift during the first Hanukkah evening, but I have also heard that in many families the kids get 8 gifts during the holiday, one for each night.
What is a Hanukkah gift?
The same as a Christmas gift. It is a toy that the kid has really wanted.
Hanukkah Gelt
Every Hanukkah evening we also give the kids some Hanukkah gelt – chocolate coins for the younger kids and money to the older kids.
If you are invited as a guest to Hanukkah evening, you can bring small gifts for the kids, or just bring Hanukkah Gelt.
---
Hanukkah Gifts and supplies
It is not as easy to find Hanukkah supplies and decorations in Toronto.
If you live in the Thornhill area you will have more options since some of the Dollar stores in this area have some Hanukkah supplies. However, outside Thornhill, it can be challenging to find Hanukkah supplies or even a dreidel.
You can also find Hanukkah decorations at Indigo stores.
Here are some ideas for Hanukkah Gifts and supplies you can order online:
---
From our family to yours: Happy Hanukkah
Disclaimer- Some of the links in this post are affiliate links and I will be compensated if you make a purchase after clicking on my links. Thank you for your support
If you like this post and you would like to read more content like that, please subscribe to our mailing list here

Latest posts by Diel Gerber
(see all)
Facebook Comments