A Baby Registry List is a checklist of all the items that you will need when your new baby arrives. From big items like a baby crib and car seat to smaller items like baby clothes and even diapers.
You can create your Baby Registry List in many stores, so why create your Baby Registry with Amazon?
Many moms-to-be already have an Amazon account, so creating an Amazon Baby Registry will be very easy. With Amazon Baby Registry, you have access to the largest online store with all the brands you like and all the products you want. You also get discounts, samples, 90 days of easy returns and free two-day shipping.
Click here to open your Amazon Baby Registry page, or continue to read about the benefits of Amazon Baby Registry and the welcome gift.
⇒ If you live in Canada, click here to read about the Amazon Canada baby registry list
---
Your Benefits with Amazon Baby Registry
15% off for Prime members and 10% off for non-Prime members across Baby store on Amazon.com
Amazon has the largest selection and carries nearly every brand and every item.
Lowest price.
Easy 90-Day Returns (45 days in Canada)
Universal Registry – you can add to your list items from any website online (not just Amazon).
Variety of brands and price range.
Prime members get a FREE Amazon Baby Registry Welcome Box when they spend $10 or more.
I don't plan to share my Baby Registry List, should I still create one?
The answer is YES.
You will get 10% off any baby item on Amazon.ca when you sign up to Amazon Baby Registry.
If you have a Prime membership- you will get 15% off and a Free welcome box, valued $35.
If you plan to purchase any item for your baby on Amazon, register and get your discount.
---
Amazon Baby Registry Welcome Box
To be eligible for Amazon Baby Registry Welcome Box you need to:
Be an Amazon Prime member.
Add 20 items your baby registry list
Spent $10 off of your registry.
– You don't have to buy 20 items, just to add 20 items to your list 🙂
– Your qualifying purchase of any amount must be made by buying items you add to your Shopping Cart from your Baby Registry. If the item you want to purchase from Baby Amazon is not already on your registry, I would advise to add it to your Baby Registry first and then add it to your Shopping Cart.
How to Claim your Amazon Baby Registry Welcome Box
After completing your eligibility steps allow 1-2 days for the redeem button to show on this page.
On the top menu bar click "Welcome Box" and then click on "check status".
You should see that the first 3 steps checked off and the "Claim Now" button. This will add it to your cart and the $35 credit is already selected.
If you don't see the gift, click here to the item's page and the coupon.
Before you confirm your order make sure the total is $0.00
---
How to create Amazon Baby Registry list – step by step guide
Step 1: Click here to open Amazon Baby Registry page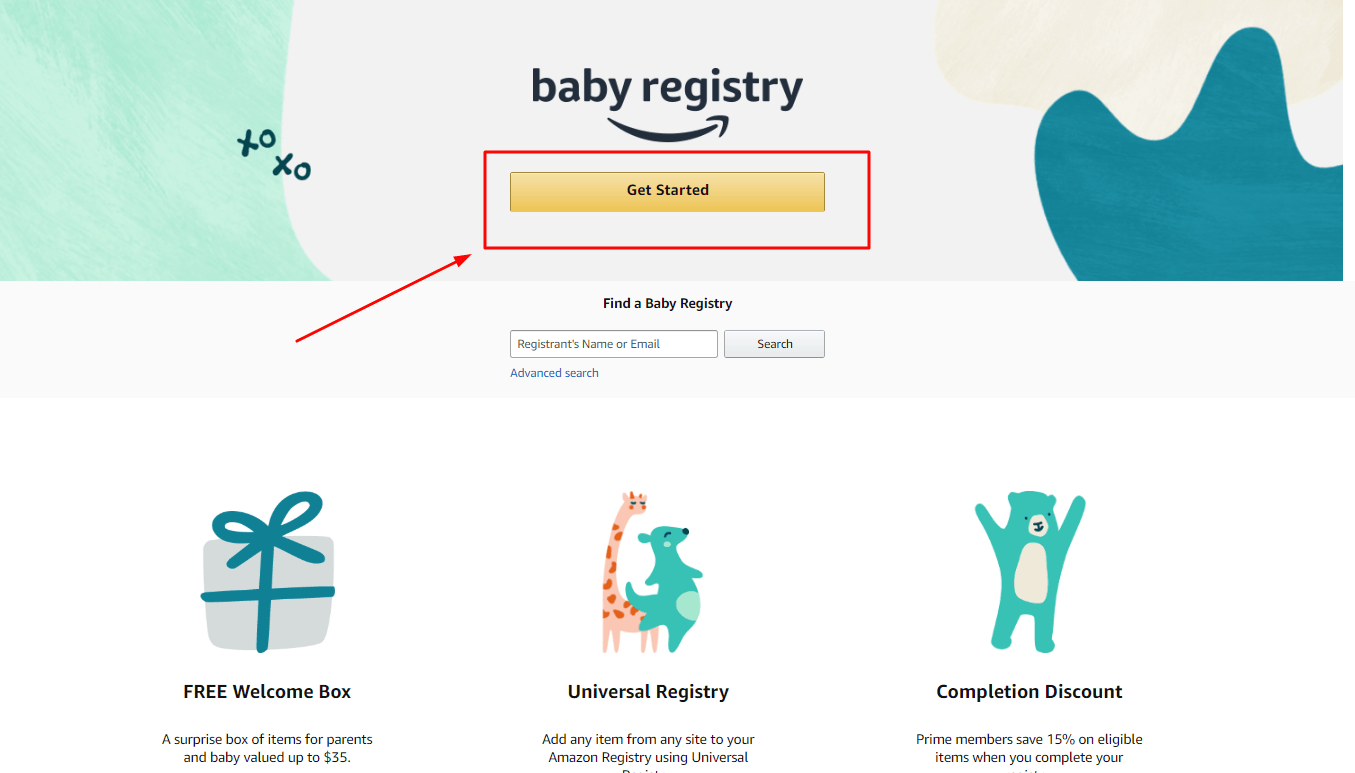 Now, click on "Get Started"
Step 2: Fill your information
Mandatory fields: First name and Last name, Email address, Expected arrival date and Shipping address.
Check/uncheck if you wish to allow guests to ship any items to your address.
You can add a Co-register if you wish (your partner).
Select the registry privacy. The common option is "Only people with the link".
Type the characters to confirm you're not a robot.
There is an optional section to fill more about yourself (see below). In this section, you can check/uncheck if you wish to accept "Amazon Gift Cards". I choose Yes (Cause why not?)
You will be able to change your information and setting at any time!
Step 3: Click "Create my Baby Registry"
Click "Create my Baby Registry". This is it, You are all set now!
At this point, you will get a confirmation email to your email address.
The next page will look like that:
Step 4: Add items to your Amazon Baby Registry
You can start by clicking on "Registry Checklist" and add items from this page. Or you can browse Amazon by searching for an item.
Once you find an item you would like to add click on "Add to Baby Registry". Simple as that.
Once you added an item, you will get a confirmation note that the item has been added to your registry.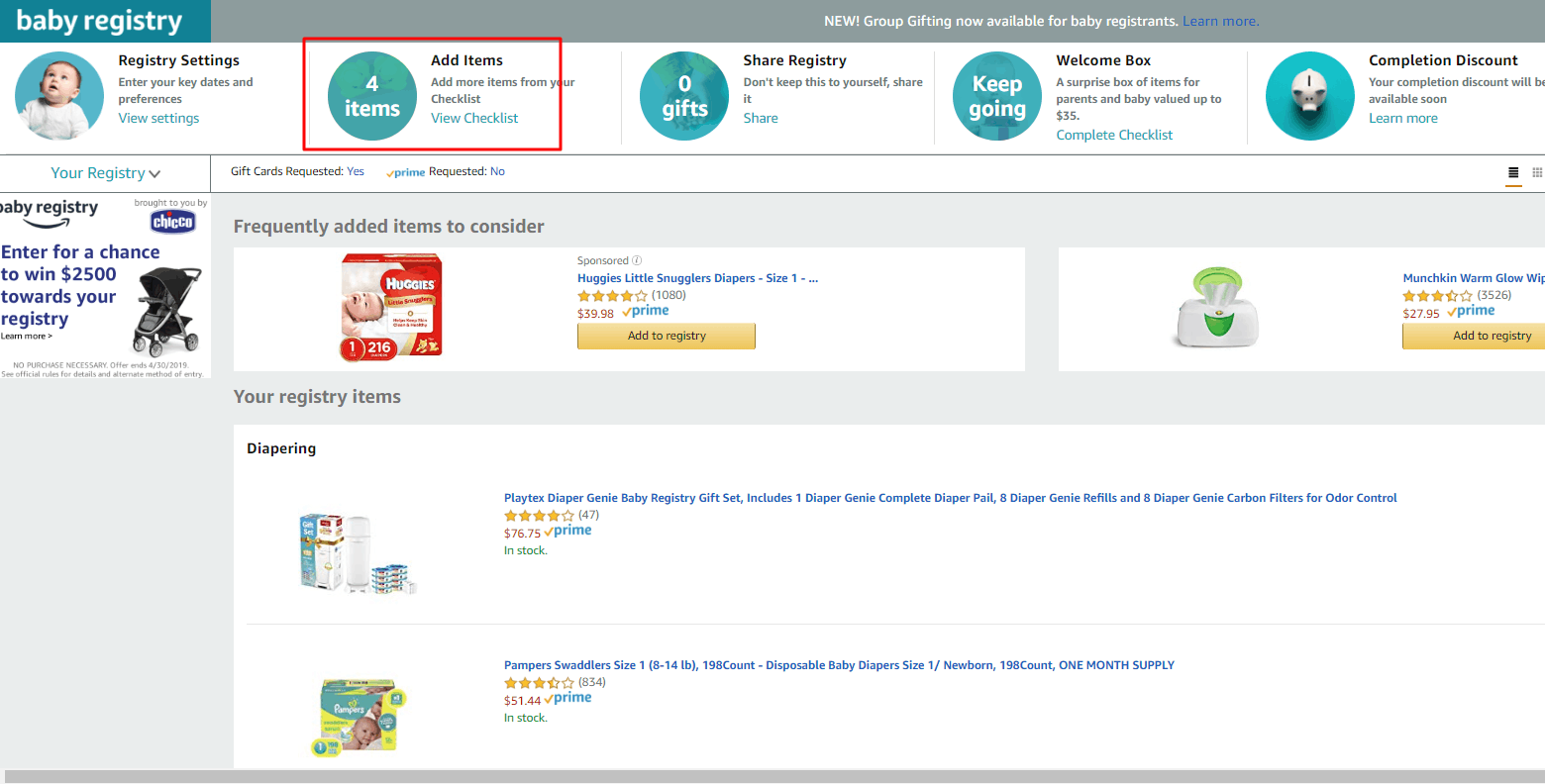 Step 5: Share the link with your friends and family
From the Baby Registry page click "Share Your Registry".
You can copy the link and send it. Or you can share it directly by email or social network of your choice by clicking the share buttons.
Click here to open your Amazon Baby Registry page
The next step will be to add all necessary items to your baby registry list. Click below for our baby registry checklist here
---
This is all. As always, if you have any questions or comments, feel free to add your comment as well.
---
Latest posts by Diel Gerber
(see all)
Facebook Comments