How To Save Money on Diapers
One of the biggest expenses for new families is diapers. During the first year, you are likely to change 8 diapers per day on average, which is 240 diapers each month and 2,800 diapers a year! with an average price of $0.25 for 1 diaper, you are looking at $725 a year (prices are CAD). Even worse, this does not include other items like diaper cream and wipes which adds up to a lot of money. So how can you save money on diapers?
---
10 Tips On How To Save Money On Diapers
Tip #1: Buy in Bulk
It's a very simple rule: The larger the package is, the cheaper it gets overall. When you buy a larger package, you spend less money on each diaper. Your best bet is to buy the biggest package you can.
Tip #2: Subscribe to Amazon diapers and save 20%
Amazon Prime members can subscribe to Amazon's diaper service and save 20% on any diaper brand and also get free shipping. The amount you will save every year will most likely be more than the Amazon Prime membership fee. And there's nothing like the convenience of getting the package right to your door. This is especially true in the winter when you can't leave the house with your newborn baby. When you subscribe to Amazon's diaper service you can cancel, skip, or change your order any time you want. There is no commitment.
For Amazon Prime click here
For Amazon Canada Prime click here

For Amazon US subscriptions click here
For Amazon Canada subscriptions click here
Tip #3: Buy at Costco
Costco members can purchase Huggies diapers as well as Kirkland brand diapers at any Costco store. If you have a Costco membership you can save money on diapers if you choose one of these brands.
Tip #4: Explore different brands
Although Huggies and Pampers are the most popular brands, there are many different brands to choose from. The most value for money will be the private labels brands like Kirkland and PC.
Tip #5: Print coupon at home
Both Huggies and Pampers offer a printable coupon on their site. You can use their coupon in any store and for every package of diapers. With a coupon, you can save $1- $3 on each purchase.
Huggies Diapers Coupon
For Huggies Canada coupon click here
For Huggies US coupon click here
Pampers Diapers Coupon
For Pampers Canada coupon click here
For Pampers US coupon click here
Tip #6: Compare weekly promotions
You can use apps like Flipp, to compare diaper costs from different stores. With Flipp, you can check all weekly flyers in one place. If you see a good promotion, buy more than 1 package.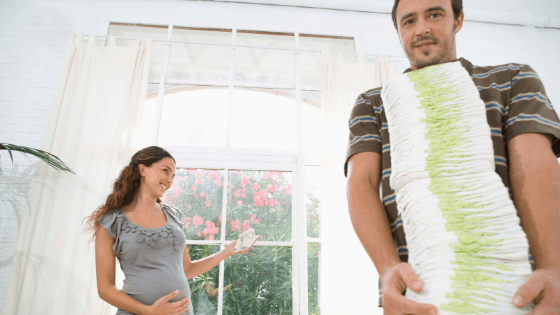 Tip #7: Compare prices for 1 diaper and not the price for a package.
There are a variety of packaging sizes for each diaper brand. Usually, each store stocks different package sizes, which makes it hard to compare prices. Therefore, when you compare prices, always compare the price of a single diaper.
Tip #8: Use
Cloth Diapers
If you can handle that, go for it! Use these reusable, washable super-absorbent and comfortable cloth diapers. It's better for your pocket, as well as the environment!
Tip #9: Shop at the big stores
There is a huge price gap between the big grocery stores outside the city (like Walmart) and the small pharmacy stores in the city. If you don't shop online, you would need to drive a bit to save more.
Tip #10: Start with potty training early
I wouldn't recommend toilet training for your 5-month-old. But by the time your LO is 2 years old, you can definitely start with toilet training and teach your kid how to use the potty. It will save you lots of money, as diapers get more expensive as the kids get older.
---
Here's a good example of how to compare the price of diapers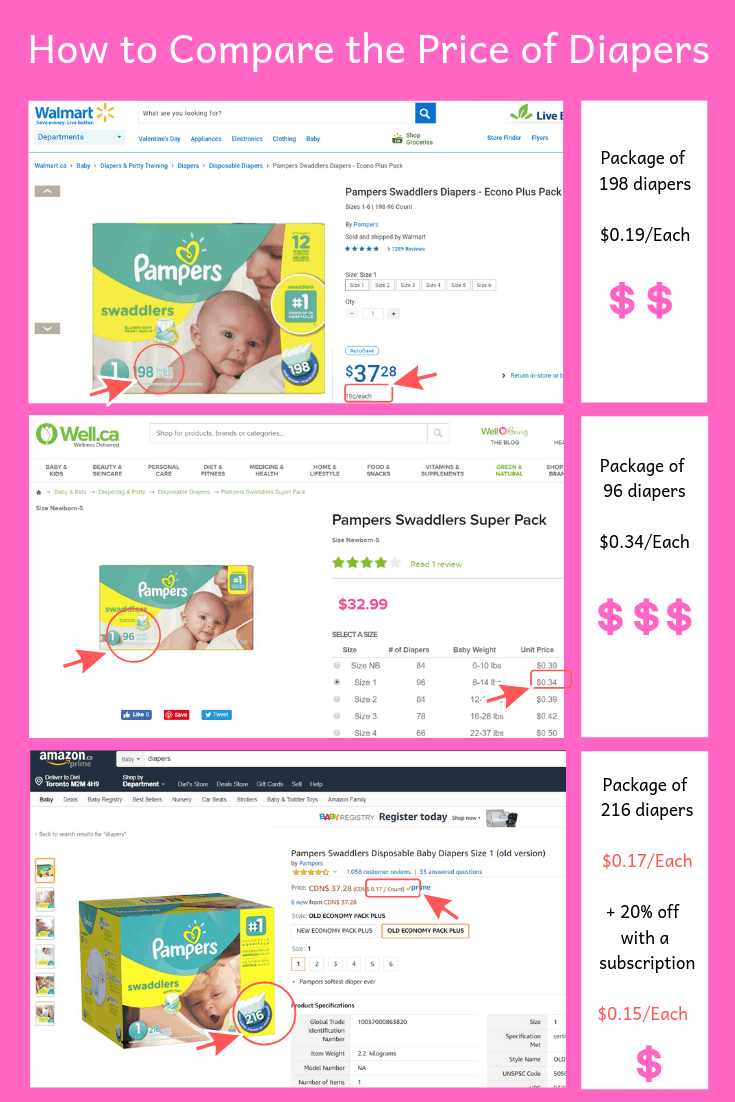 Do you have another tip on how to save money on diapers? Add your own tip in the comments section below.
---
Latest posts by Diel Gerber
(see all)
Facebook Comments