Weird But True: Making Learning Fun
It can be challenging to find an activity that will be both fun and educational for the entire family. The good news is that while it's challenging, it's definitely possible.
Ever since my 4-year-old started school, keeping her busy every day has been a challenge for me. My LO comes home from school every day at 3 p.m. I play with her daily, or we do some activities together for about 3 hours before we get ready for bed.
---
It is quite hard to find an exciting activity for a child who is 4 years old. And here's why:
First, at this age, they have already grown out of preschool age activities and games like Melissa and Doug, Fisher Price, and others. However, they are too young to do more complicated activities or play video games.
Second, even when they get new games, they'll lose interest pretty fast.
And lastly, as a parent I'm quickly losing interest in the games I play with my LO every day or in the stories, I read to her. It's difficult to maintain the enthusiasm I need to when I'm bored as well.
Can you relate to this? Add your answer in the comments section below and let me know if you have been having these difficulties as well.
So finding an exciting activity for the entire family is not a simple thing. There is hope though!
---
Diving into the weird side of things helped me to find a fun and educational activity for my family.
Last week, I was introduced to National Geographic for Kids' Weird But True! series of books.
In every book, there are hundreds of weird, but true facts that are fun to read with your kids. As a bonus, they'll also be interesting for you as a parent. It's a great deal.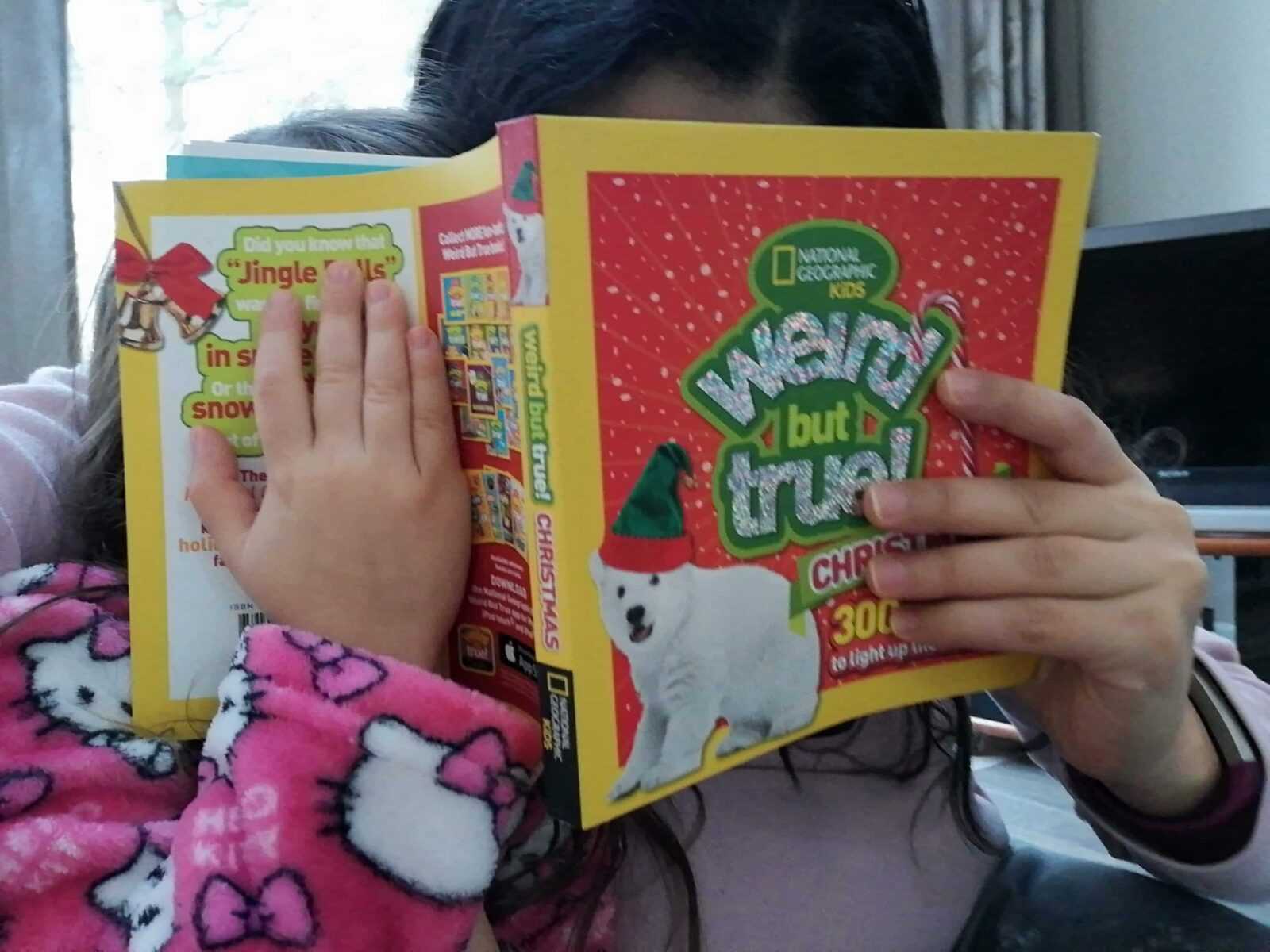 The book that we liked the most was about weird but true facts about Canada – a full book dedicated to Canada geography, provinces, plants, and animals.
The books are very colourful and fun to read. Since they're written for young kids, they have lots of pictures. My little one really likes to pretend that she is reading it by herself and will even make up new facts for the pictures.
I also found the books very interesting, so I kept reading them even after my little one went to sleep.
I'm thrilled that my LO is being exposed to facts about animals and other places in the world in such an early age. I really like the option of having books that are also entertaining for the entire family. One evening, at our family dinner table, we were reading the Weird but True! books together as a family. Every fact becomes a new subject for us to discuss and learn more about.
Each book is priced at about $13 CAD. That isn't much for a few hours of family fun and learning time.
This year is the 10th Anniversary of the original Weird but True! series. I'm sure you will be happy to know, that kids today can still have some fun with a book in their hands. It was a relief to me that my LO' loved the books even with so many options and screens around. I truly believe it still depends on us, the parents, to encourage our kids to read more and to spend more time with a book in their hands. These Weird but True! books will totally help make it happen for you.
You can get your own copy of Weird by True! wherever books are sold in Toronto. You can also order the series from Amazon Canada or visit an Indigo store.
One more option is to borrow a copy from the Toronto Public library.
Fun fact: You can send your own weird but true facts to National Geographic kids. If your fact is featured on the National Geographic Kids website next May, you'll win two books: Weird But True! Canada and Weird But True! 10.
Disclaimer: I received this product for free from Moms Meet (momsmeet.com) to use and post my honest opinions. Compensation for this post was provided and this page may contain affiliate links
---
Latest posts by Diel Gerber
(see all)
Facebook Comments